Sharing Alaska was born in 2016 out of a desire to share the beauty and wonders of Alaska. Sharing Alaska is a proud proponent of geotourism in Alaska and supports local businesses, photographers, videographers, and Alaskan content creators. We partner with tour operators to help create a strong, sustainable, and eco-friendly tourism economy while collectively #SharingAlaska across social media.
Our team is dedicated to helping locals and visitors get out and explore all the Last Frontier offers. We provide seasoned advice and expertise to ensure visitors and locals alike experience Alaska to its fullest.
Thank you for supporting local businesses! Tag #SharingAlaska and @SharingAlaska on any social media when you share your adventures, photos, and videos of Alaska! Together, we can share the best of Alaska.
At Sharing Alaska, our mission is to share an immersive digital window into the heart of Alaska's breathtaking landscapes and rich culture.
We aim to inspire, inform, and engage a global community through the splendor of Alaska, assisting in inspiring and planning their unforgettable journey to the Last Frontier.
We champion Alaskan tourism businesses, aiding them in expanding their reach and impact through strategic, creative, and collaborative partnerships by leveraging our vast digital community. We strive to promote each Alaskan company's distinct experiences, bolstering their reach and enhancing their storytelling.
Sharing Alaska operates on the pillars of Creativity, Collaboration, and Sustainability.
Our commitment to innovation drives us to continually reimagine how to use digital media to share and create exciting, high-quality content and compelling narratives about Alaska. These creative roots keep us at the forefront of this innovative digital representation.
We believe in the power of collaboration, fostering relationships with local businesses to promote a thriving Alaskan tourism ecosystem.
Our commitment to sustainability and conservation underpins every aspect of our work, and who we work with, and reflects our dedication to preserving Alaska's pristine environment for generations to come.
We're a team of locals that love photography, videography, the outdoors, and sharing the best of Alaska!
The Sharing Alaska team is made up of a collective group of individuals: Gen-Zers, Millennials, Baby Boomers, Harvard Grads, Bloggers, Marketing Experts, Students, Aviators, and Backpackers. We enjoy and appreciate the beauty, wonder, and nature in our backyard and love to share Alaska and all of its hidden gems.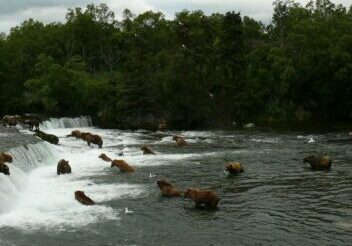 Alaska Wildlife Watching: From Your Couch to the Wild
Alaska is home to some of the most incredible wildlife in the world, from bears to whales to walruses. And thanks to the wonders of technology, you can now watch these amazing animals from the comfort of your own home. One of the best ways to see Alaska wildlife is through live webcams. These cameras…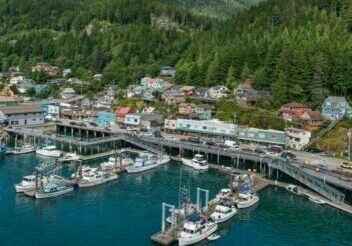 Alaska's Hidden Coastal Gems: 5 Towns to Fall in Love With
Alaska, the last frontier, is full of hidden treasures that go beyond snow-capped peaks and breathtaking glaciers. Let's pack your warmest puffy coat and embark on a journey to the seaside, Alaskan style! Ketchikan, Alaska Our first stop is Ketchikan, tucked away on the southern tip of Alaska's Inside Passage, a mesmerizing network of…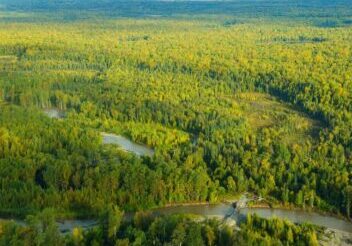 Adventuring Southcentral Alaska: Your Four-Day Escapade
Southcentral Alaska, renowned for its awe-inspiring landscapes, friendly locals, and delectable cuisine, is a destination worthy of any traveler's bucket list. Despite the distance, once you set foot in this picturesque region, you'll be captivated. If you have a long weekend to spare, here's a comprehensive guide to exploring the best parts of Southcentral…